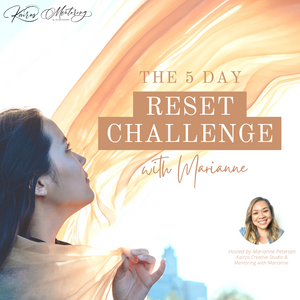 'RESET CHALLENGE' - Self-paced Course
2020 marked the beginning of not only a New Decade but a New Era and with the pandemic, many were robbed from transitioning well into the New Era.
We may find ourselves at any stage of the year, feeling tired and weary. Maybe even frustrated and unable to find our feet. We may find ourselves in transition, in between what was and what is to come, a time of the unknown, not quite able to see clearly but we feel a stirring in our heart and a pull to move forward. 
Many are in a season of transition and need to hit reset to move forward into the rest of the year. Are you looking for language in this season of transition? Are you looking to be refreshed and in need of hitting the RESET button? This self-paced course is for you!
We hosted our annual '5 Day Reset Challenge' in June/July 2021 and saw a number of beautiful women join us for what was a powerful 5 days! So many of these amazing women received language for their season, they encountered Jesus afresh and were deeply encouraged and strengthened to continue in their transition season! Thank you Jesus! Holy Spirit spoke to us over the 5 days prophetically through the life of the caterpillar transitioning into the butterfly. We journeyed through the transition stages and discovered how beautifully this process spoke to many of us!

The Challenge was recorded over the 5 days and we felt on our heart to make it available as a self-paced course for women who were not able to take part in the challenge but would like receive breakthrough in their season of resetting and transition!
What you will receive:
Lifetime access to the course
5 days of video recordings and activation assignments
Email support throughout the duration of the course, please email kairoscrativestudio@gmail.com
To enrol in the '5 Day Reset Challenge' Self-Paced Course, please purchase the course and we will send you an email with more details on how to log in using our Teachable portal. The Teachable Portal will be where you can access your course.
(Valued at $197)
AFTERPAY AND LAYBUY AVAILABLE