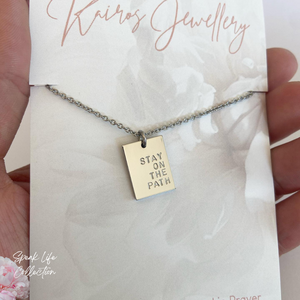 Stay on the Path Necklace
A beautiful reminder necklace to encourage someone to Stay on the Path that God has set before them. We can experience discouragement, hope deferred, loss and pain. It can cause us to step off the path that God has for us but God wants you to know today that He is with you and He is calling you to stay the path. 
Details:                                  
- Available in silver, gold and rose gold
- 20mm wide x 2mm thick
- Shiny Mirror finish
- Chain lengths available in 46cm, 51cm, 61cm and 75cm
- Chain styles available in ball chain, cable o chain and curb chain
- This piece will be handstamped with 'Stay on the Path'
- Comes with a mini jewellery box, cloth and care card
Crafted with love in our Brisbane studio, each kairos piece is carefully handstamped, polished and assembled by Marianne. Each piece is made with love and covered in prayer. As each letter is hand stamped, there will always be variation in alignment and spacing. What is unique and beautiful about this process is that each kairos piece one of a kind.  
Let us know in the comments box who this piece is for. We will write a word of encouragement just for the recipient