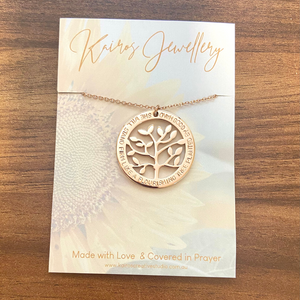 She will Stand Firm Necklace
What a beautiful reminder that in God, we can stand firm like a flourishing tree planted by His hand. What does it mean to stand firm? It means to be unshakeable and immovable no matter what may come our way, no matter the trials and circumstances that have been created to uproot us or take us out.
A tree grows over time and its roots grow down deep. When the winds and storms of life come, it may sway but it is never moved. Inspired by Psalm 1:3, this piece is a reminder that you were planted to stand firm in Him. You are stronger than you realise. Stand firm dear one.
Details:                                  
- Available in silver, gold and rose gold
- Hand stamped: She will stand firm like a flourishing tree planted by God's hand
- 27mm wide, 2mm thick
- Shiny Mirror finish
- Chain lengths available in 51cm, 61cm and 75cm
- Chain styles available in cable o chain, cable o chain (thick) and curb chain
- Please note our jewellery pieces cannot be hand stamped on the back
- Comes with a mini jewellery pouch, cloth and care card
Crafted with love in our Brisbane studio, each kairos piece is carefully handstamped, polished and assembled by Marianne. Each piece is made with love and covered in prayer. As each letter is hand stamped, there will always be variation in alignment and spacing. What is unique and beautiful about this process is that each kairos piece one of a kind. 
Let us know in the comments box who this piece is for. We will write a word of encouragement just for the recipient