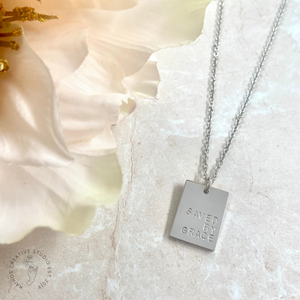 Saved By Grace Necklace
Our 'Saved By Grace' necklace is inspired by Ephesians 2:8-9 - " For it is by grace you have been saved, through faith—and this is not from yourselves, it is the gift of God - not by works, so that no one can boast"
A loving reminder of your salvation by grace and faith, a gift of God. It is a perfect gift for someone who has given their heart to Jesus or recommitted their lives. A great conversation starter piece with those you may meet in your every day life. What does it mean to be Saved By Grace? Wear and declare this special piece today.
Details:                                  
- Choose your chain length and colour 
- 12mm wide, 1.5mm thick
- Handstamped Message: Saved By Grace 
- Shiny Mirror finish
- Comes with a mini jewellery pouch, cloth and care card
Crafted with love in our Brisbane studio, each kairos piece is carefully handstamped, polished and assembled by Marianne. Each piece is made with love and covered in prayer. As each letter is hand stamped, there will always be variation in alignment and spacing. What is unique and beautiful about this process is that each kairos piece one of a kind. 
Let us know in the comments box who this piece is for. We will write a word of encouragement just for the recipient