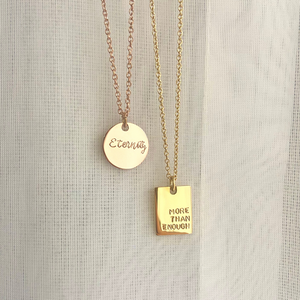 More Than Enough Necklace
Our 'More Than Enough' necklace is a powerful declaration piece. A powerful and beautiful reminder that YOU ARE ALWAYS MORE ENOUGH. You don't need to strive and do things for God to prove your worth, you are more than enough just as you are. Remind a loved one or yourself of this truth.
Details:                                  
- Choose your chain length and colour 
- 12mm wide, 1.5mm thick
- Hand stamped Message: More Than Enough
- Shiny Mirror finish
- Comes with a mini jewellery pouch, cloth and care card
Crafted with love in our Brisbane studio, each kairos piece is carefully handstamped, polished and assembled by Marianne. Each piece is made with love and covered in prayer. As each letter is hand stamped, there will always be variation in alignment and spacing. What is unique and beautiful about this process is that each kairos piece one of a kind. 
Let us know in the comments box who this piece is for. We will write a word of encouragement just for the recipient