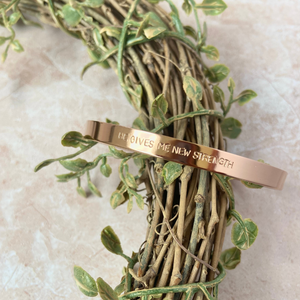 He Gives Me New Strength Bracelet Cuff
Our 'He Gives Me New Strength' Bracelet Cuff is inspired by Psalm 23:3-5 GNT. It is an encouragement piece for those who have are weary and tired from the battle. Wear and declare scripture, believing that God is giving you new strength today! No matter what battle you are facing today, God's strength will carry you through.
Details: 
- 165mm Long x 6mm Wide x 1.5mm thick
- Every bracelet cuff has a small heart shape cut out 
- Available in silver, gold and rose gold
- Mirror shiny finish
- Handstamped: He gives me new strength 
- Bracelet cuff can be gently and slowly closed and opened to fit your wrist comfortably
- Please note: Bracelet cuffs cannot be hand stamped on both sides
Crafted with love in our Brisbane studio, each kairos piece is carefully handstamped, polished and assembled by Marianne. Each piece is made with love and covered in prayer. As each letter is hand stamped, there will always be variation in alignment and spacing. What is unique and beautiful about this process is that each kairos piece one of a kind.