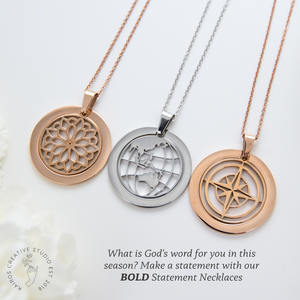 Flourish Statement Necklace
Our Flourish Statement Necklace is a new edition to Statement Collection. A beautiful gift for those who are called to flourish in this season. 
Inspired by Psalm 92:13, 'Those who are planted in the house of the LORD Shall flourish in the courts of our God'
Personalise your Floutish Necklace with personal scripture, message, quote, date or names, or request a Prophetic piece where we will pray for you and handstamp the message God puts on our heart for you. 
Crafted with love in our Brisbane studio, each kairos piece is carefully handstamped, polished and assembled by Marianne. Each piece is made with love and covered in prayer. As each letter is hand stamped, there will always be variation in alignment and spacing. What is unique and beautiful about this process is that each kairos piece one of a kind.