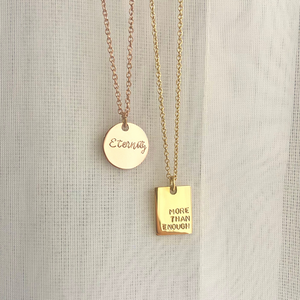 Eternity Necklace
Our 'Eternity' necklace is inspired by Ecclesiastes 3:11, 'He has made everything beautiful in its time. He has also set eternity in the human heart; yet no one can fathom what God has done from beginning to end' 
This piece is a reminder that eternity is beating in your heart. We pray that every time you look at your Eternity necklace, it will bring your focus back to what matters most. What we do today will impact our eternity and the eternity of others. Can you hear eternity beating?
Details:                                  

- Available in silver, gold and rose gold
- 15mm diameter, 2mm thick
- Shiny Mirror finish
- Handstamped: Eternity (Script font)
- Chain lengths available in 46cm, 51cm, 61cm and 75cm
- Chain styles available in cable o chain and curb chain
- Please note our jewellery pieces cannot be hand stamped on the back
- Comes with a jewellery pouch, cloth and care card
Crafted with love in our Brisbane studio, each kairos piece is carefully handstamped, polished and assembled by Marianne. Each piece is made with love and covered in prayer. As each letter is hand stamped, there will always be variation in alignment and spacing. What is unique and beautiful about this process is that each kairos piece one of a kind. 
Let us know who the piece is for in the comment box and we will write a word of encouragement for your loved one.