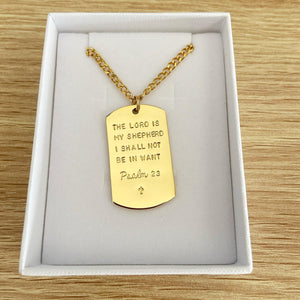 Caleb Dog Tag Necklace
Our Caleb necklace is a special edition jewellery piece. This necklace is made of a dog tag. 
The dog tag is 38mm x 22mm, 1.5mm thick. Available in silver and gold. Chain are only available in 51cm, 61cm or 75cm
Every Day is an opportunity to celebrate and honour the father figures in our lives, whether they be our Father, Husband, Grandfather, Brother, Friend, Uncle, Pastor, Teacher, Spiritual Father or even a Leader at work. 
Who can you encourage, honour and strengthen in your world? What would you like hand stamped on the piece? Our jewellery pieces can be personalised or prophetic. A prophetic piece is where we will pray to God for a word or a scripture and we will hand stamp that word on the piece.
Each piece comes with a personalised word of encouragement.
Crafted with love in our Brisbane studio, each kairos piece is carefully hand stamped, polished and assembled by Marianne. Each piece is made with love and covered in prayer. As each letter is hand stamped, there will always be variation in alignment and spacing. What is unique and beautiful about this process is that each kairos piece one of a kind.