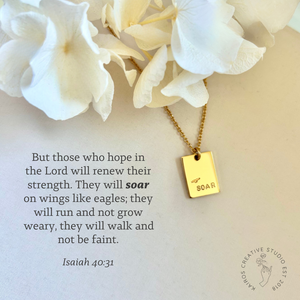 Soar Necklace
Our Soak necklace is been inspired by Isaiah 40:31 and is a reminder that as we trust in the Lord not only will we find new strength but we will soar high on wings like eagles! Notice this piece also has an Eagle hand stamped on it! 
Our 'Speak Life' Collection is different from our prophetic and personalised pieces. This collection is made up of necklaces that carry specific and special inspired words that have been hand stamped on them. They have been prayerfully chosen to speak life and bring timely encouragement into different seasons and circumstances. 
What does the word 'SOAR' mean to you?  
'But those who trust in the Lord will find new strength. They will soar high on wings like eagles. They will run and not grow weary. They will walk and not faint' - Isaiah 40:31
Details:                                  
- Choose your chain length and colour 
- 12mm wide, 1.5mm thick
- Handstamped Message: SOAR (with an eagle)
- Shiny Mirror finish
- Comes with a jewellery box, jewellery clean cloth and care card
Crafted with love in our Brisbane studio, each kairos piece is carefully handstamped, polished and assembled by Marianne. Each piece is made with love and covered in prayer. As each letter is hand stamped, there will always be variation in alignment and spacing. What is unique and beautiful about this process is that each kairos piece one of a kind.