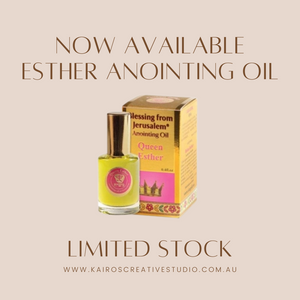 Queen Esther Anointing Oil - 12ml
The Esther Anointing Oil has been very popular as it is an extraordinary product, especially for those who are working with spiritual work in synagogues and churches, preparation for a ministry, dedication and holiness. It can also be applied at an event where the Lord's anointing and presence are desired. This Anointing Oil is made with extraordinary care, using only virgin olive oil acquired from the trees around Jerusalem, with strict attention to purity, leaving it free of any trace of residual after-scent. 
For an anointing oil that blends together heavenly aromas and invigorating antioxidants:
Inspired by the holy anointing oil that was produced by the Children of Israel in the desert (Exodus 30:22-25), this bottle is named for the Jewish queen who saved the Jewish People in Persia.
Expertly produced in Israel, this bottle of anointing oil is produced using locally grown olive oil and is infused with the rich scents of Biblical flowers and herbal essences.
Certified by the Israeli Ministry of Health.