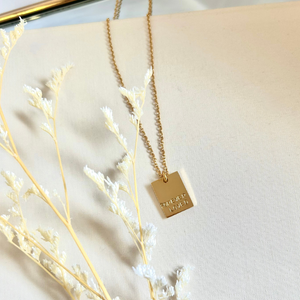 Forever Loved Necklace
Our 'Forever Loved' Necklace is powerful eternal statement in our 'Speak Life' Collection.
A beautiful piece to wear and declare and be reminded you of God's truth, that you are forever loved. Romans 8:38-39 says that "Nothing can ever separate us from God's love. Neither death nor life, neither angels nor demons, neither our fears for today nor our worries about tomorrow—not even the powers of hell can separate us from God's love. No power in the sky above or in the earth below—indeed, nothing in all creation will ever be able to separate us from the love of God that is revealed in Christ Jesus our Lord. 
Available in silver, gold and rose gold
Crafted with love in our Brisbane studio, each kairos piece is carefully handstamped, polished and assembled by Marianne. Each piece is made with love and covered in prayer. As each letter is hand stamped, there will always be variation in alignment and spacing. What is unique and beautiful about this process is that each kairos piece one of a kind.