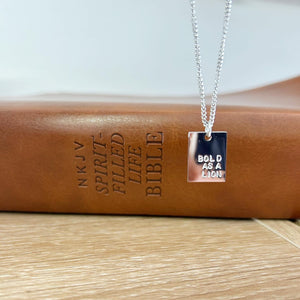 Bold as a Lion Necklace
Our Bold as a Lion necklace is been inspired by Proverbs 28:1 '
The wicked run away when no one is chasing them, but the godly are as bold as lions' 
and is a reminder that as we are as bold as a Lion! 
Our 'Speak Life' Collection is different from our prophetic and personalised pieces. This collection is made up of necklaces that carry specific and special inspired words that have been hand stamped on them. They have been prayerfully chosen to speak life and bring timely encouragement into different seasons and circumstances. 
What does this scripture mean to you?  
Details:                                  
- Choose your chain length and colour 
- 12mm wide, 1.5mm thick
- Handstamped Message: Bold as a Lion
- Shiny Mirror finish
- Comes with a jewellery box, jewellery clean cloth and care card
Crafted with love in our Brisbane studio, each kairos piece is carefully handstamped, polished and assembled by Marianne. Each piece is made with love and covered in prayer. As each letter is hand stamped, there will always be variation in alignment and spacing. What is unique and beautiful about this process is that each kairos piece one of a kind.